Garnier Australia Films at Independent Studios
The offices, photo and video shooting spaces of coworking space Independent Studios Prahran were recently used as location for Garnier's 'Busy Women of Australia' campaign. Garnier is an internationally renown cosmetics brand and was represented by Cartel Film Productions, who shot a scene of the BB cream commercial at Indep Studios..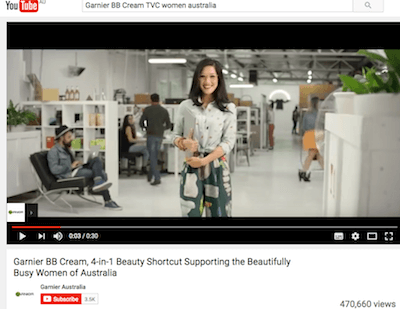 You can see the full commercial below. Independent Studios is featured at approx. 3 seconds.
Independent Studio's office space was used in the television commercial to show how much women do: They are mothers, artists, business women and much more. Independent Studios has many women working at the coworking space and supports all "beautifully busy women of Australia".
We welcome Cartel Film Productions on site to do the shoot and wish them along with Garnier well in their campaign.
If you are a production company, film agency or film production interested in finding a location in Prahran, Melbourne, please don't hesitate to contact us.
You can read more about our White Room Film Production office here.